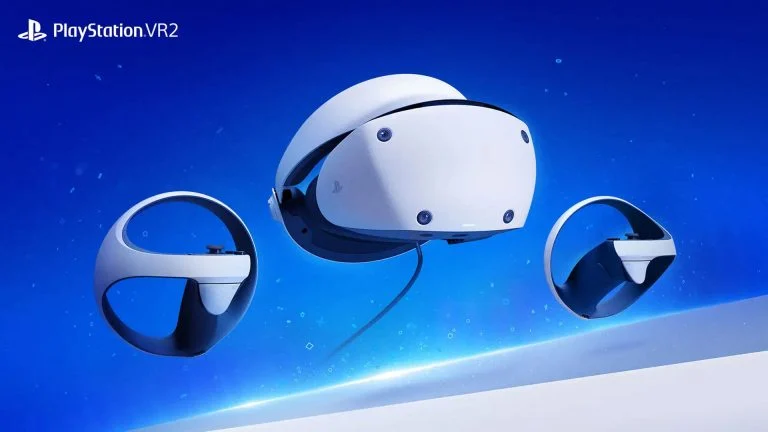 The PlayStation VR2 Headset is the newest iteration since the original in 2016 and nearly doubles the resolution on the device.
Sony just released the new PlayStation VR2 Headset specs, which are pretty impressive. This is some refreshing news for those that are all-in on the VR craze, as it seems like PlayStation is taking the quality route when designing their headsets. Here's everything we know so far about the PlayStation VR2 Headset.
When Does PlayStation VR2 Release?
The PlayStation VR2 will release globally on February 22, 2023. It will cost $549.99 in the United States and come in two versions, the base version and the PlayStation VR2 Horizon Call of the Mountain Bundle, which includes a voucher code for Horizon Call of the Mountain. 
How Does the PlayStation VR2 Compare to PlayStation VR and Meta Quest 2?
The newest PlayStation VR device is a huge leap in hardware compared to the original headset. While the original PlayStation VR headset had a panel resolution of 960×1080 per eye, the new model will nearly double that at 2000 x 2040 per eye. In addition to the enhanced resolution, there will also be four embedded cameras for headset and controller tracking, as well as a built-in IR camera for eye tracking.
When comparing with the Meta Quest 2, some significant differences set the two headsets apart from the start. For one, the Meta Quest 2 has onboard memory storage, which is why there are two models at two different price points. The PS VR2 headset, on the other hand, utilizes player's PS5 consoles via a USB Type-C, forgoing the need for hardware storage within the device. When comparing raw specs, the PS VR2 eeks out more resolution per eye, as the Meta Quest 2 only has 1832 × 1920 resolution per eye. PlayStation also has a higher refresh rate, at 90/120Hz vs. 72Hz, making for smoother gaming.
Perhaps the biggest difference between the headsets will be the titles, though. PlayStation has an extensive catalog of in-house IPs and Studio relationships it can leverage to create some seriously amazing games for VR. This roster of titles will probably be the number one selling point for the hardware.
While it is pretty expensive at $550, and only time will tell whether the quality is there, the new VR2 headset will be one of the better pieces of virtual reality hardware on the market.
For more news articles like this one, see our News Section.