Prime Gaming, Amazon's gaming platform, has made huge investments in free games and DLC, but will it pay off in the end?
If you're always on the lookout for the latest deal, you probably already know about Prime Gaming's free game program, where new titles are up for grabs each month. If not, you've left $2,300 in gaming value on the table in 2022, according to a recent release by Amazon. This value is an increase of over 34% over the previous year.
In a world where various entertainment mediums are vying for viewer attention and retention, companies like Amazon and the Epic Store offer up, sometimes AAA titles, for free — regularly. This leaves no shortage of games for eager fans to play.
In addition to all the dollars in free games, Amazon saw a 25% increase in claims of the free titles over the last year, meaning that many players are finally catching on. Of the games redeemed, some of the heaviest hitters included Total War: Warhammer, Fallout: New Vegas, and Star Wars Jedi: Fallen Order.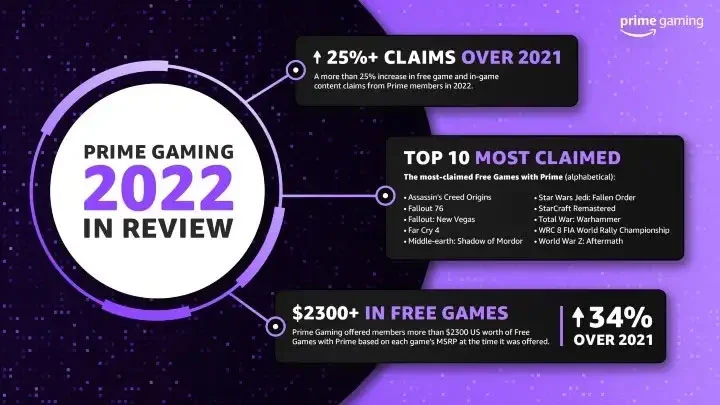 Perhaps the only drawback to Amazon Free Games is that the games you get on the platform are available on various gaming platforms, including GOG, Steam, and Origin, which can make game organization annoying, to say the least.
Unlike Epic, which hosts all of its games on its own game launcher, free Amazon games often require setting up a new username and password on a game developer or publisher's proprietary game launching software. These extra hoops may discourage gamers from taking full advantage of the free titles.
Regardless, we love these kinds of programs because it makes gaming more accessible to everyone. Whether the motivations are to capture a larger share of the 221+ billion dollars in revenue that the gaming industry is slated to generate in 2023, according to Statista, or get more people involved in gaming is irrelevant to the average gamer — who just wants to have fun without emptying their bank accounts.
For more news articles like this, see our News Section.