In a tough field that includes Hogwarts Legacy and Atomic Heart, Sons of the Forest, the sequel to the indie survival game The Forest, achieved the most sales on Steam in the last week of February.
Well, that's one doozy of an Early Access release. Endnight Games, the game's developers, last updated fans on Twitter, reporting the fact that the indie horror-survival game managed to sell over 2 million copies in the first 24 hours of release. To top it all off, it was the highest-sold game from February 21-28, 2023, according to SteamDB — beating out highly-anticipated games with massive budgets like Hogwarts Legacy, Atomic Heart, and Company of Heroes 3.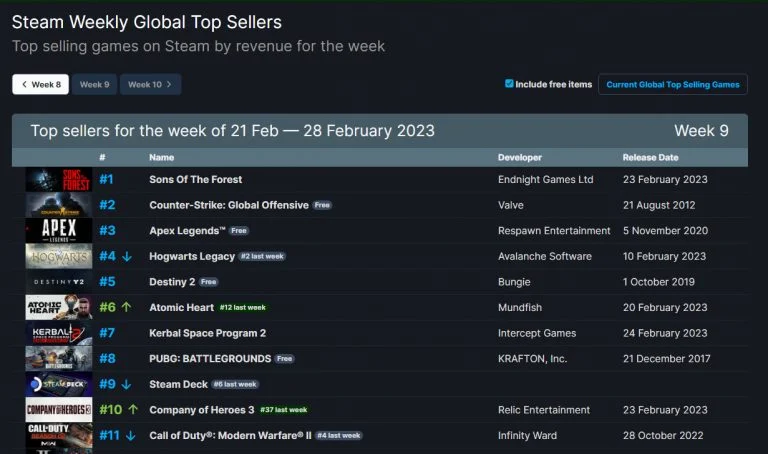 This is pretty astounding, considering the game studio, based out of Vancouver, British Columbia, Canada, is fairly small, as game development companies are concerned. With a little over 15 employees, according to Linkedin, the company manages to do a lot with a small staff.
Originally founded in 2013, Endnight is mainly known for its title, The Forest. While specific details about the development team are rather slim outside of the title's in-game credits, the company's CEO and co-founder, Ben Falcone, has had some history in the games/visual effects industry in the past, working for Animal Logic, another effects studio that has worked on titles like Captain Marvel and The LEGO Movie 2.
RELATED: Sons of the Forest Early Access Review: Terrifying Survival Horror
A Great Example of Following Your Dreams
With amazing visuals, a deep and creepy story, and the fun perception built from the first game, Sons of the Forest and the original The Forest are labors of love that included taking in community feedback and tweaking their game over time.
While the original game was impressive for an indie studio, it only got a peak concurrent user base of under 8,000 players two years after release. This skyrocketed much later, in October 2022, to over 75,000 players.
With 2 million sales in just a single day — it's proof that grinding and dedicating yourself to a project you love can be worth it in the end. This, along with the smash success of the indie city-builder Dwarf Fortress, proves that smaller development companies can make big waves in the gaming industry.
What do you think of the Sons of the Forest's success? Let us know in the comments section below.
For more news like this, see our News Section.