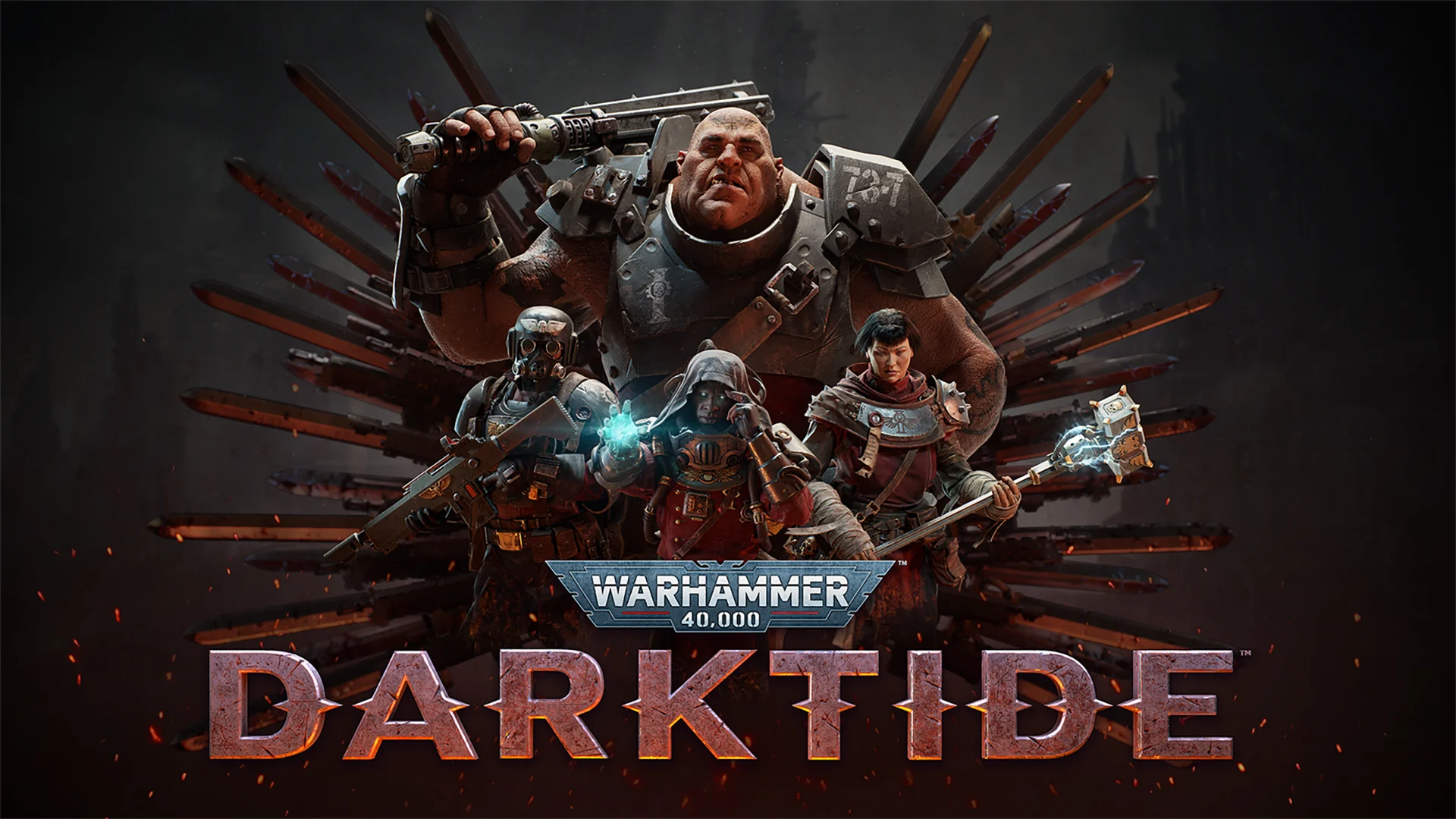 If you've enjoyed playing the pre-order beta of Warhammer 40,000: Darktide but have a less-than-ideal experience because you're on older hardware, there are a few settings you can tweak to help your performance in the game. Darktide is a dark and graphically-intense game, so older-generation video cards and hardware might stutter or lag while playing.
Luckily, fixing your lag and low FPS is a matter of tweaking a few settings. There are a lot of different settings, however–and it can feel confusing, but if you follow the guide below, you should increase your frames in Darktide. One thing to note, some of the settings in Darktide work better on some GPUs than others, but we will explain what to choose depending on your equipment.
Fixing Lag and Low FPS in Warhammer 40K: Darktide
To increase FPS in Warhammer 40K: Darktide, users should reduce their basic video settings in the game's launcher. Then, users should change Performance Options in Video Settings to reflect the video card on their computer. Once that's done, reducing all Ray Tracing and Advanced Settings should increase performance.
Here's a step-by-step walkthrough on which settings to change to increase FPS in Darktide.
Adjusting Basic Video Settings in the Launcher
If you're having trouble getting the game even to load, you will want to adjust your settings before launching the actual game. In the launcher, select Settings to access the Video options for Darktide.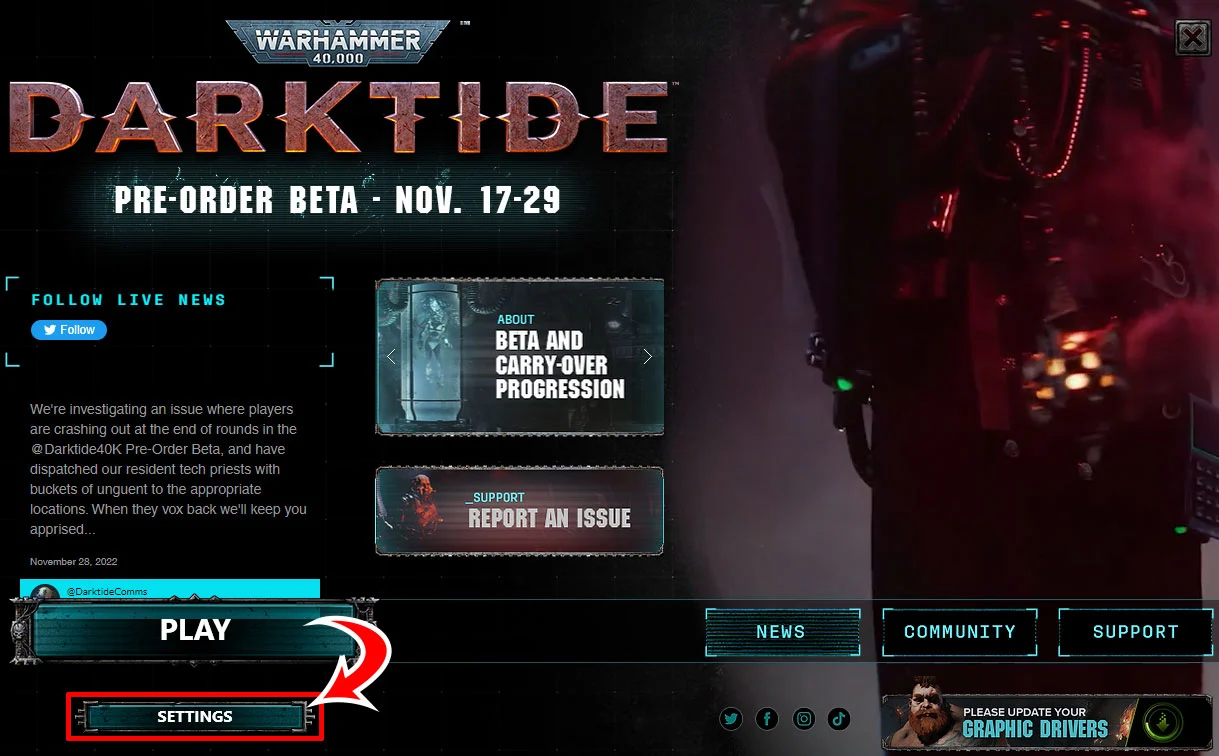 Here are the best video settings you can use to reduce lag:
Resolution: Set your Resolution to your monitor's resolution. To find your monitor's resolution, right-click your desktop and select Display Settings, then look under Display Resolution.
Screen Mode: Full Screen
VSync: Off
Adjusting Performance Options
Performance options will depend on your video hardware, specifically your video card. To view what video card you have:
Hit CTRL+SHIFT+ESC to open Task Manager.
Click the Performance Tab.
Look under GPU.
Most gamers will have either an Nvidia or AMD video card. What you have will determine the best performance settings for your Performance Options.
Performance Options for Nvidia Video Card
If you have an Nvidia RTX 20 or above series, the ideal performance options for you are:
Nvidia DLSS: On
Super Resolution: Ultra Performance
Nvidia Reflex Low Latency: Enabled
Framerate Cap: Unlimited
FidelityFX Super Resolution 2: Off
FidelityFX Super Resolution 1.0: Off
Sharpen: On
Anti Aliasing: Off
Performance Options for AMD Video Cards
Nvidia DLSS: Off
Super Resolution: Off
Nvidia Reflex Low Latency: Disabled
Framerate Cap: 30/60
FidelityFX Super Resolution 2: On
FidelityFX Super Resolution 1.0: Off
Sharpen: On
Anti Aliasing: Off
You can also experiment with FidelityFX Super Resolution 1.0, but make sure both Nvidia DLSS and FidelityFX Super Resolution 2 are set to Off if you plan on using it. Turn off Nvidia DLSS and FidelityFX Super Resolution 2 and 1.0 if you use an onboard video or another video card.
Ray Tracing & Advanced Graphics
Here are the best performance settings you can use for Ray Tracing and Advanced Graphics in Darktide:
Ray Tracing: Off
Ray Traced Reflections: Off
RTX Global Illumination: Off
Ambient Occlusion Quality: Low
Light Quality: Low
Volumetric Fog Quality: Low
Depth of Field: Off
Global Illumination: Low
Bloom: On
Skin Sub-Surface Scattering: Off
Motion Blur: Off
Screen Space Reflections: Off
Lens Quality: Off
Lens Flares: Off
Scatter Density: 0
Max Ragdolls: 0
Max Weapon Impact Decals: 5
Max Blood Decals: 5
Decal Lifetime: 10
Turn off all the settings under Gore Settings for an additional FPS boost.
Taking these actions above should significantly increase your overall FPS, especially if you were playing on High or Medium settings before. If your game looks incredibly ugly–well, that's what you trade for performance. Fixing lag and low FPS in Darktide is typically a matter of adjusting a few settings, and it includes making your graphics worse.
If you're getting a constant framerate and it isn't dipping or dropping while you play, consider raising some of these settings to see what works best for you. Ultimately, it's up to you how much graphic fidelity you want to trade for a smooth gameplay performance.
Did our solutions help raise your FPS? Let us know in the comments section below.
More Warhammer 40K Darktide: Best Psyker Builds in Warhammer 40K: Darktide | Warhammer 40K: Darktide Class Tier List (November 2022) | Warhammer 40K: Darktide Penance Mission Rewards | How to Complete Abhor the Mutant Penance in Warhammer 40K: Darktide | How to Equip Weapons, Trinkets, and Cosmetics in Warhammer 40K: Darktide