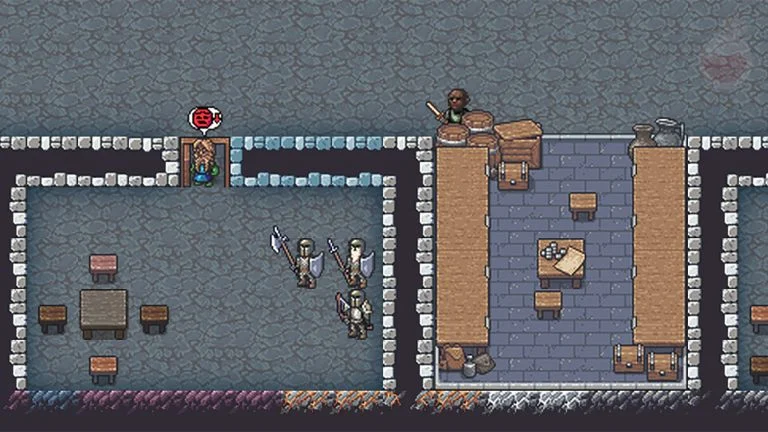 If you've been playing the settlement management game Dwarf Fortress and have been sucked in by its addictive gameplay–you may have encountered a threat that wiped out your entire civilization. Nothing is worse than perfecting your vegetable processing and farming setup, only for an ogre to come and destroy everything you've built.
In Dwarf Fortress, Militias and Squads are soldiers that will help defend your people and your Fortress. However, figuring out how to use them at first might be a little tricky. Our in-depth guide will cover how to create, control, and train Militias and Squads in Dwarf Fortress. 
Dwarf Fortress: How to Create a Militia and Squads
Players that are looking to defend their Fortress will need to build a strong Militia. To do this, you'll need to assign a Militia commander from the Nobles and Administrators (n) menu, create a Squad (q), and build a Barracks from the Zone (z) menu.
Keep reading for an in-depth breakdown of each of these concepts.
Assigning a Militia Commander
Before you create an army, you'll need to have a leader for your soldiers. To assign a Militia Commander, click Nobles and Administrators (n), then click the ➕ next to Militia Commander. From here, you can select which villager you want to assume the role.
In the Nobles and Administrators screen, you'll also have a slot for Militia Captain, which you should also fill. These villagers lead individual squads and provide them with special buffs based on the character's background and experience. Relevant skills will be listed next to the character's name on the selection screen.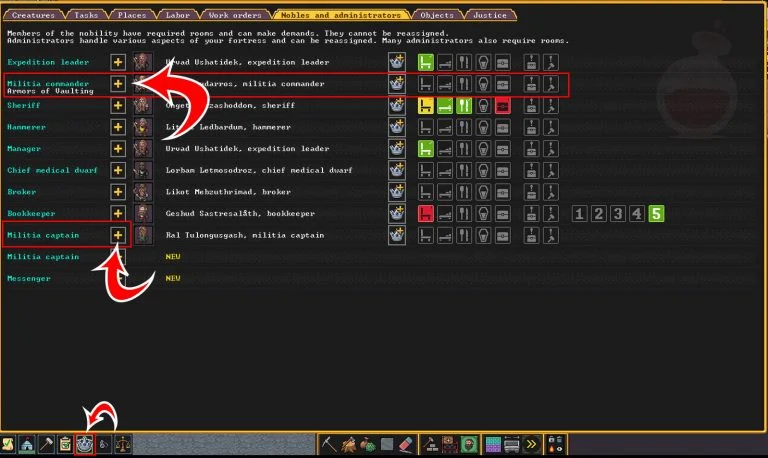 Luckily, unlike other Nobles in the game, Militia Captains don't require special accommodations like an Office.
Creating a Squad
Now that you have a Militia Commander, you'll need to create a Squad and assign individual villagers to the Squad. To create a squad in Dwarf Fortress:
Click the Squad (q) icon in the bottom right of the screen.
Select Create new Squad.
Click New militia captain's Squad appointed by militia commander.
Select your uniform. If you haven't been building armor, you can click No uniform.
Click the Dwarf icon directly left of the quill to fill in your Squad roster.
Select Assign position # and select the villagers you want to fill the Squad. Like other roles in the game, characters with skills suited for combat will be listed.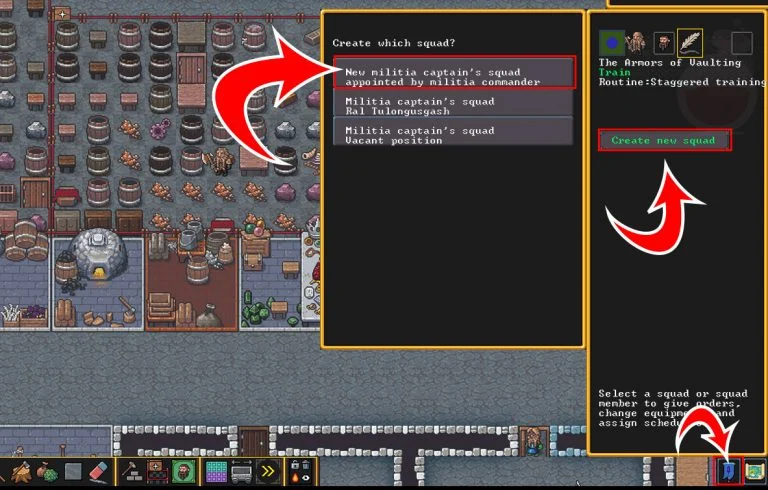 You can create additional squads as your civilization grows. Creating armor and weapons at the Forge, trading for them, or finding them in dungeons will increase your Militia's stats and make them more potent in battle.
Building a Barracks
Now that you have your fully formed Militia, it's time that you give them quarters so they can train to become more powerful. To do this, access the Zones (z) menu, then click Barracks. Click and drag over the area to set your Barracks Zone.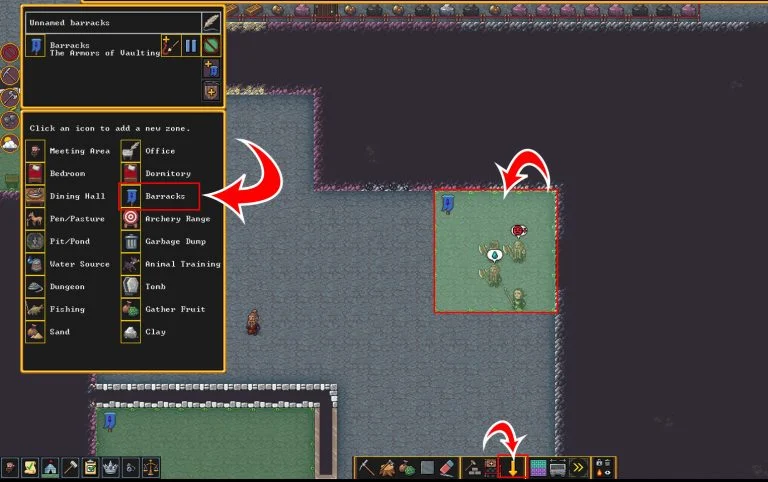 From here, click the +Barracks icon so that you can set the behavior for your Barracks. Players have four choices for Barracks, including:
Sleeping quarters
Training quarters
Weapons and armor storage
Ammo storage

Dwarf Fortress Squad Commands and Schedule
When you create a Squad for your Militia, you'll gain access to specific commands that you can issue to that Squad. To issue commands, open the Squad (q) menu, then select the checkbox next to the Squad you want to control.
Look at the bottom of the squad menu for the following commands:
Kill order
Move to
Patrol
Defend
Training
Cancel Order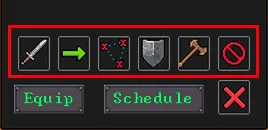 Squad Schedule
In addition to the attack, defend, and other combat commands, you can also set a specific schedule for your Dwarf squads. To do this, click the Schedule button at the bottom of the Squads (q) menu.
From here, you'll have a variety of different options to choose from. If you're starting your Fortress, we recommend Staggered training because it will let your villagers do other jobs and level up their combat simultaneously. As your civilization grows, you can have a dedicated Militia and set this to Constant Training.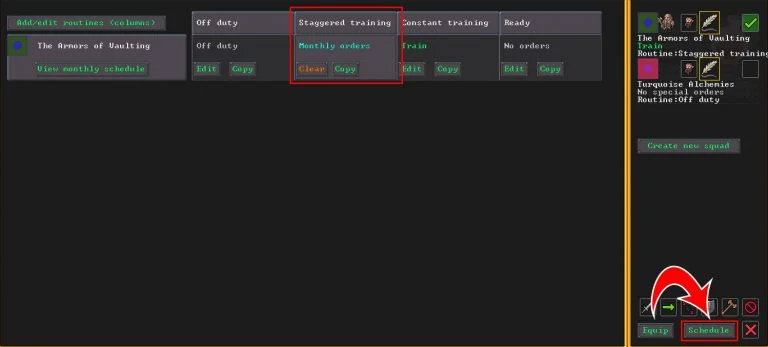 You also can edit each of these modes and your Monthly schedule by clicking Edit on the main screen and the View monthly schedule screen. Like many other aspects of Dwarf Fortress, you can fine-tune these scheduling options to maximize the efficiency of your forces.
Did a goblin come and kill all your people? How are you using schedules to automate your armies? Let us know in the comments section below.
For more Dwarf Fortress guides and walkthroughs, see our Dwarf Fortress section.