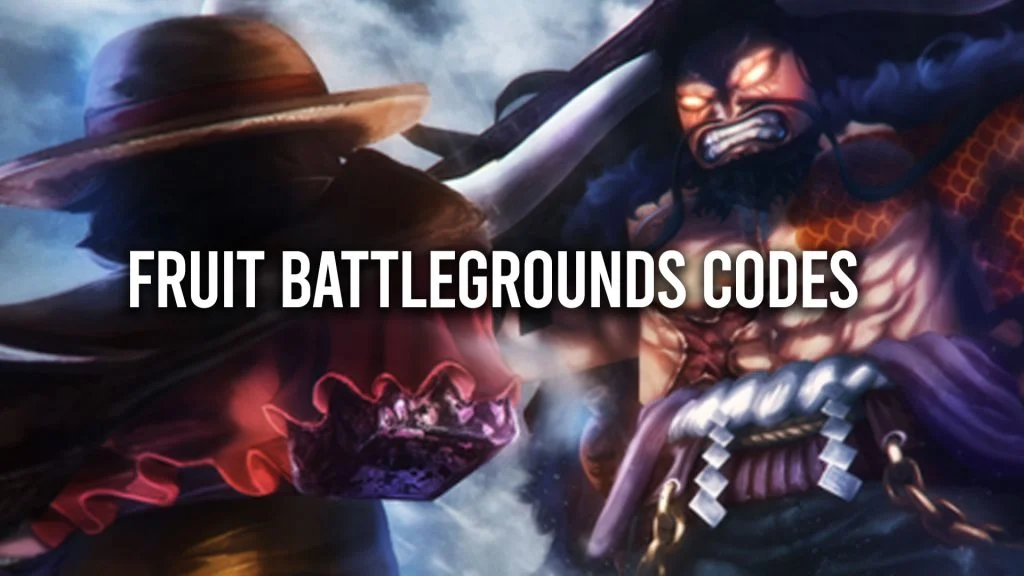 Do you love anime-inspired fighting games on Roblox? Fruit Battlegrounds is an experience created by POPO where players can battle against friends. Inspired by One Piece, players can obtain fruits to unlock special abilities, fight other players, unlock new fruits, and journey to become the strongest character in the game.
Use the Fruit Battlegrounds codes below to get free gems, in-game boosts, and other limited-time rewards. Players can use gems to spin for a new fruit and try their luck at obtaining a legendary. Find out how to redeem them in Fruit Battlegrounds in the section below. Codes do not last forever, so use them while they last!
February 2 2023: New update released. We are checking for Fruit Battlegrounds codes.
Fruit Battlegrounds codes
Active codes:
GOKRAZY150: Free Gems
140KAGAIN: Free Gems
GEARFOOOOURTH: Free Gems
FATSTACKZ: Free Gems
ITJUSTDONTSTOP: Free Gems
RAININGGEMS!: Free Gems
LETSGOO130K: Free Gems
PAWGOKRAZY: Free Gems
UPDATETIMEEE: Free Gems
GOLDENDAYZ: Free Gems
FREECAZH: Free Gems
120KTHX: Free Gems
INDAZONE: Free Gems
110KYEE: Free Gems
WINTERDAYZ: Free Gems
COMEONMARCOOO: Free Gems
100KWEDIDIT: Free Gems
DAMN90K: Free Gems
80KAHHHHH: Free Gems
80KCRAZY: Free Gems
THXFOR70K: Free Gems
FREEBREAD!: Free Gems
SORRY4SHUTDOWN: Free Gems
60KLETSGOOOO: Free Gems
MAGMALETSGOO: Free Gems
50KINSANE: Free Gems
40KDAMN: Free Gems
35KWOWBRO: Free Gems
30KLOVEYOU: Free Gems
25KINSANE!!: Free Gems
20KCRAZY: Free Gems
15KNOWAY: Free Gems
THXFOR10K: 450 Gems
7KTEAM: 450 Gems
PRESENT4YOU: 700 Gems
Expired codes:
5KSQUAD
4KGANGO
3KTHXBRO
WUPDATEORNAH
2KLETSGOOO
1KLIKESGANG
What are Roblox Fruit Battlegrounds Codes?
Fruit Battlegrounds codes are random words and strings of letters and numbers released by the game developers. Players can redeem codes for various in-game items, such as gems, which can be used to spin for new fruit. Codes expire quickly, so use them while they last to avoid missing out on freebies.
How do I redeem codes for Fruit Battlegrounds?
To redeem codes in Roblox's Fruit Battlegrounds, launch the game and click on the Spin Fruit button from the main menu. Next, click on the treasure chest that says Spin. You will see a code redemption box on the bottom left of the screen. Enter a working code into the box and press Redeem to get your free gems.
How do I get more Fruit Battlegrounds codes?
The best way to get new codes for Fruit Battlegrounds is by following the developers on Twitter and subscribing to the official YouTube channel. You can also join the Discord server for announcements, game updates, and promotional events. We monitor all known code distribution channels, and we'll add them to our code wiki for your convenience.
That's our list of the latest working Fruit Battlegrounds codes. How about checking out our list of the best Roblox tower defense games? Don't waste time visiting other websites when we cover all the games. Visit our Roblox guides wiki page for more codes and walkthroughs for your favorite Roblox experience.