There are a lot of controls to memorize in Project Slayers, so don't feel bad if some of the basic ones slip your mind. For one of the earlier quests in Kiribating Village, you'll need to rescue Somi's little sister Riyaku. To do this, you need to know how to carry people on your back. Here's how to carry people in Project Slayers, and more specifically, how to rescue Somi's little sister Riyaku.
Check out our Project Slayers codes page to get some free in-game bonuses, including spins, experience, and limited-time boosts.
How to Carry People in Project Slayers
To carry people on your back in Project Slayers, press the "H" key on the keyboard. You'll need to be next to the object or person you want to carry, and then simply press "H." Interrupts and getting knocked down will cause you to drop whatever you're carrying, so keep that in mind if you're trying to complete a quest or carry something back to town.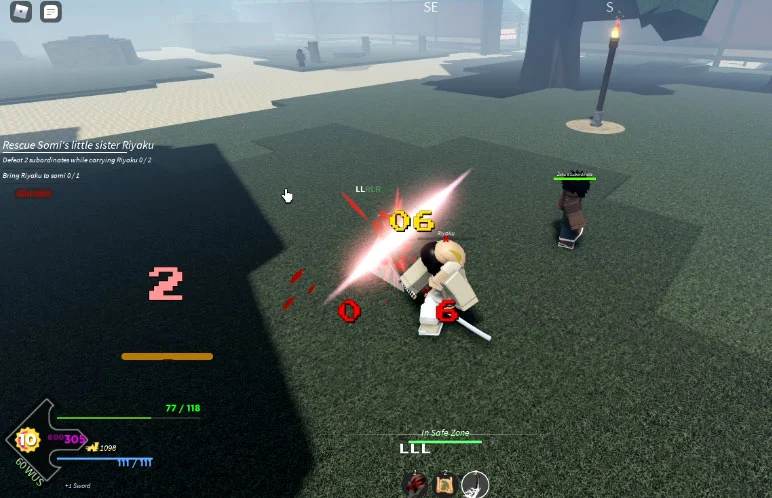 The first time you'll need to do this for a quest is early on in Kiribating Village when you speak to Soma. After defeating some tough guys, Somi will want you to rescue her little sister. One of the quest objectives is to defeat two subordinates while carrying Riyaku on your back. The marker on the map leads you to Riyaku, who is surrounded by about four enemies.
We recommend getting an enemy to low health, and then walking over to Riyaku, pressing "H" to pick her up, and then finishing off the enemy. If the enemy lands a combo on you, you'll drop Riyaku and probably not get credit for the kill. You can also dodge roll with the "Q" key to avoid getting hit. Use these tips if you're having any trouble with this quest.
That's how you can carry people in Project Slayers. Hopefully, this helps you complete the quest from Somi a little easier. It can be a tough one to figure out if you haven't checked out the in-game controls.
Check out our Project Slayers section for more related walkthroughs, guides, and content.