When your rides are heavily modded in Need for Speed Unbound, you may want to finish things off with underglow lights. These vanity items might take you back to the year 2000 when Fast & Furious was still in theaters. Needless to say, they're not for everyone, but if you're looking to add them to your ride, the guide below will show you how it's done.
How to Add Underglow Lights in Need for Speed Unbound
To add underglow lights in Need for Speed Unbound, visit any garage, go to the Rides section, and select Style, Vanity items, and Underglow. The Underglow section is where you can add lights to the bottom of your ride. A few options are available by default, and the remainder of the underglow options are unlocked by completing in-game challenges.
Most, if not all, of the underglow options are unlocked by acquiring stars on Speed Traps. The faster you go through a Speed Trap, the more stars you get. So the best thing to do if you want them all is to whip out an S+ ride and start cruising through the city.
Here are the most expensive Underglow Vanity Items in NFS Unbound:
Purple & Lime Wave: Get 35 Stars on Speed Traps
Candy Pink & Purple Wave: Get 50 Stars on Speed Traps
Firework: Get 70 Stars on Speed Traps
Solar Storm: Get 90 Stars on Speed Traps
Independence Day: Get 115 Stars on Speed Traps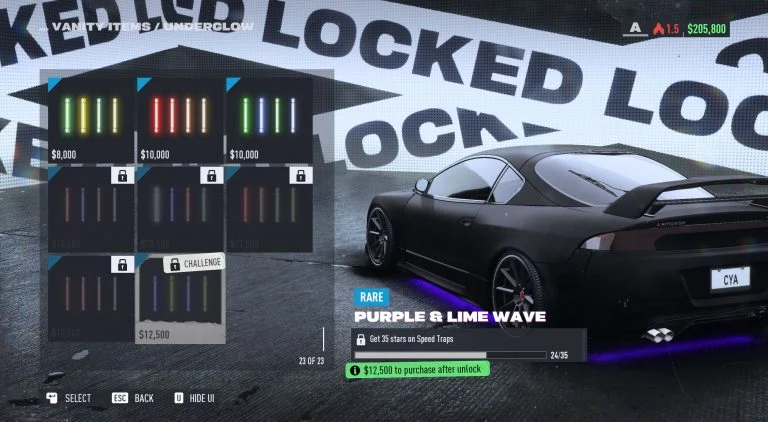 The more expensive ungerglow options pulse different colors, rotating through a few different color options. The default underglow options are typically one solid color and do not pulse or rotate through different colors. Of course, you can also choose not to have one equipped at all, which is the default option.
For more guides and walkthroughs, visit our Need for Speed Unbound Section.