There are many Fusion Karakuri in Wild Hearts, and some of them can be challenging to unlock. Most are unlocked through moments of inspiration while fighting specific Kemono, and one such Fusion Karakuri is the Celestial Cannon. If you're reading this, you're probably wondering how to unlock it. Here's what you need to know to get the Celestial Cannon in Wild Hearts.
How to Unlock the Celestial Cannon in Wild Hearts
The Celestial Cannon Fusion Karakuri unlocks after performing an inspiration that appears during the Golden Tempest hunt. You will need to have Celestial Anchor and Torch equipped during your Golden Tempest hunt and then press the corresponding keys when they flash during the Fusion Inspiration.
The combination to make the Celestial Cannon is
Celestial Anchor, Torch, Celestial Anchor
Celestial Anchor, Torch, Celestial Anchor
You'll first encounter Golden Tempest when you visit the Akikure Canyon somewhere around Chapter 4 in the Harvest Canyon Hunt. It's part of the main storyline, so just keep playing if you haven't got there yet. Also, you'll need to make sure you're up to that point on the Karakuri upgrade menu. As another reminder, you must ensure you have the Torch and Celestial Anchor equipped as two of four of your basic Karakuri to pull this off.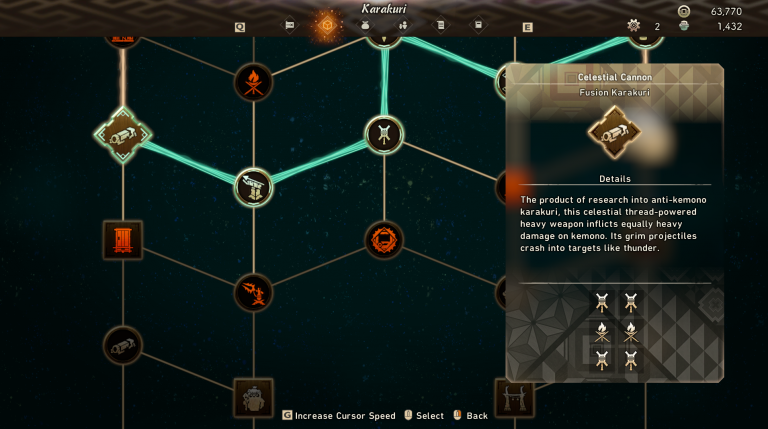 RELATED: Wild Hearts: How to Unlock Repeater Crossbow Karakuri Fusion
You can complete the Celestial Cannon Flash of Inspiration either solo or in group play. However, keep in mind that you will need to pull aggro, have the Golden Tempest focus on you, and have enough Thread to build the Cannon. Some players may find it easier to do this solo. Once you unlock it, you can simply leave or fail the hunt or just finish the Golden Tempest off if you need the materials.
Like all Fusion Karakuri, you can boost the Celestial Cannon's power by obtaining certain upgrades from the Karakuri Upgrade menu. You'll want to pick up Celestial Cannon: Savage for 3,500 Orbs and the Celestial Cannon: Torment for 3,500 Orbs to boost the overall power of the Cannon.
There you have it — that's how to unlock the Celestial Cannon in Wild Hearts. I hope this clears things up for you if you were wondering how to unlock it!