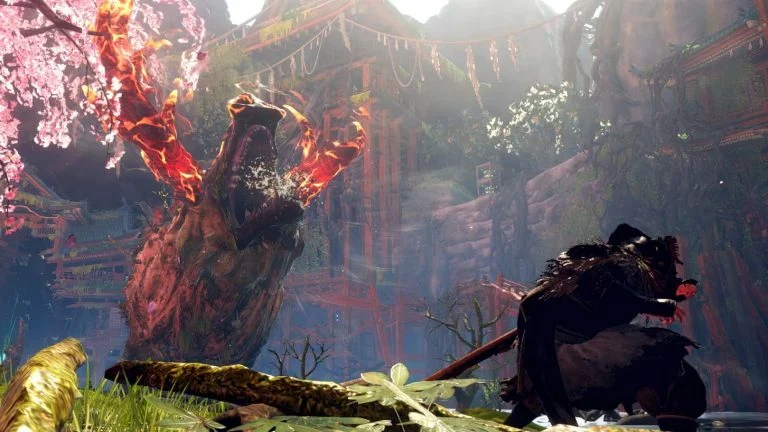 Wild Hearts is a new EA Originals game releasing on February 17, 2023. Developed by Omega Force, the Japanese video game developer best known for its Dynasty Warriors franchise and published by Electronic Arts, Wild Hearts is coming to PC, PlayStation 5, and Xbox Series X/S.
A new video was just released on YouTube showcasing a battle against the Golden Tempest, a Kemono that harnesses the power of the wind. The Golden Tempest hails from the Golden Sea, where explorers go to seek treasure and rarely return.
Wild Hearts takes place in a fantasy world of Azuma, inspired by feudal Japan, where players control a nameless hunter that quests to take down massive beasts known as Kemono, a fusion of nature and animals. There is various Kemono to hunt, including the Golden Tempest, Ragetail, Sapscourge, Kingtusk, Lavaback, Deathstalker, Amaterasu, Goldshard, Spineglider, and Earthbreaker.
Wild Hearts features eight different weapon types, including the Claw Blade, Bow, Karakuri Katana, Bladed Wagsa, Cannon, Nodachi, Maul, and Karakuri Staff. Players can test them all to find out which melee and ranged weapons are most effective depending on playstyle and the prey being hunted.
In an interview with The Verge, Kotaro Hirata, game director for Wild Hearts, explains they don't want players to feel bad for defeating a monster.
"We weren't exactly going for fear, but more the threat of nature suddenly becoming dangerous to you."
Wild Hearts launches on February 17, 2023, for PC, PlayStation 5, and Xbox Series X/S. The game is now available to pre-purchase on all platforms.