Suppose you're having trouble finding a specific person, spouse, family member, or location for a quest in Mount and Blade 2: Bannerlord. In that case, you'll need to learn how to use the Encyclopedia to find what you're looking for on the campaign map. This guide will explain how to find lords, ladies, and locations in Bannerlord.
Finding Lords and Ladies in Bannerlord
If you are looking for a specific person for a specific quest, you can use the in-game Encyclopedia to track the person down to their last seen location.
To find a specific Lord or Lady in Mount and Blade 2 Bannerlord:
Open your Encyclopedia with the N key.
Click Heroes.
Use the filters on the left to narrow down your selection, or search for the person in alphabetical order.
Click the Heroe's name.
Look in the top right of their information card and click where they were last seen.
Click the Track button to show the location on your campaign map.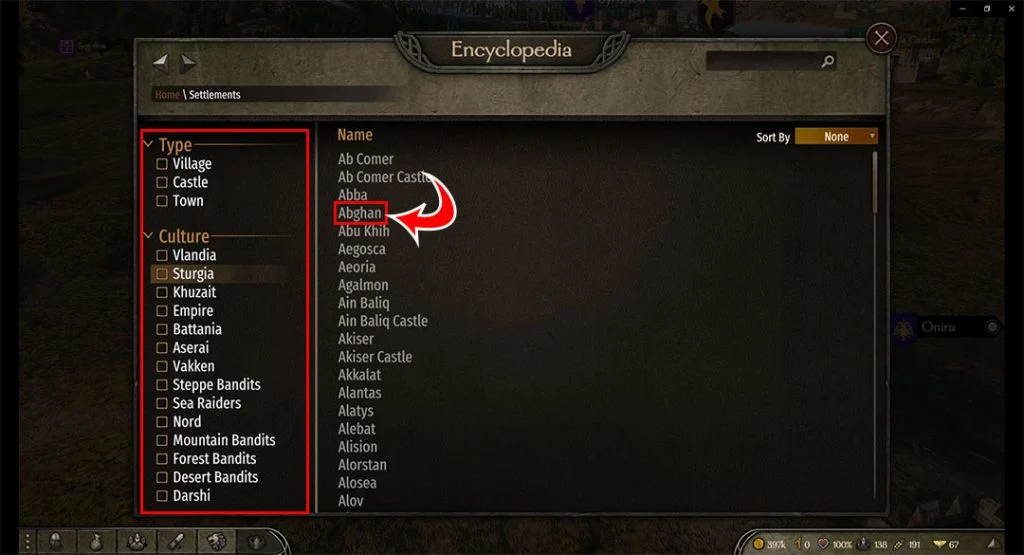 Sometimes, lords or ladies won't be at the last seen location when they travel. In this case, refresh your Encyclopedia and check if the last seen location was moved, then track that location instead.
Learn how to get married in Bannerlord with our guide.
Finding Locations in Bannerlord
There are so many different locations in Bannerlord finding a specific town or village can be challenging. Luckily, the Encyclopedia makes it easy to track and find different locations within the game.
To find a location in Mount and Blade 2 Bannerlord:
Open your Encyclopedia with the N key.
Click Settlements.
Use the filters to the right to narrow down your search.
Click the link to the location on the right.
Click the Track button.
Once you exit Encylopedia and return to the main menu, the new location will be marked on your map.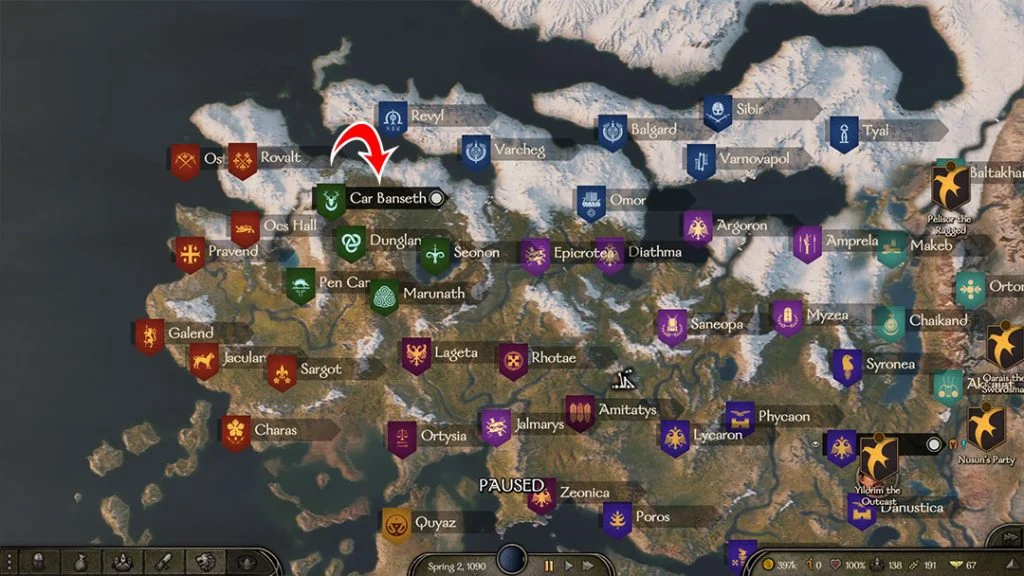 Bannerlord's Encyclopedia is Helpful for Other Things
In addition to helping you track down locations and lords for marriage proposals or quests, the Encyclopedia in Bannerlord has other useful information like the different troop trees, kingdoms, and your relationship status with other notables around the realm. While it is a bit of reading, getting a better handle on the mechanics may help you on your journey. Learning a bit more about the lore can also help with immersion.
Bannerlord certainly doesn't hold your hand, and finding certain people for quests can feel like a struggle. Luckily, by following the above guide, you should start to get to know Calradia like the back of your hand.
More Bannerlord Guides: How to Couch Lance | How to Equip a Standard or Banner | Becoming a Mercenary Guide | Increase Party Speed