The iconic BMW M3 GTR Legends Edition (2006) is officially available in Need for Speed Unbound. Of course, the burning question is how to unlock this car inside the game so you can add it to your collection. We've got everything you need to know about how to get the BMW M3 GTR in Need for Speed Unbound.
How to Get the BMW M3 GTR in Need for Speed Unbound
Players can get the BMW M3 GTR in Need for Speed Unbound by purchasing EA Play. There is an ongoing promotion where EA Play members unlock the BMW M3 Legends Edition. If you do not own NFS Unbound, you can also get a ten-hour free trial if you subscribe to EA Play.


You can try reloading the game if you get EA Play and still have not unlocked the BMW M3 GTR. It should appear after your account is refreshed and Need for Speed Unbound recognizes that you're an EA Play subscriber.
There's also an in-game delivery mission where you need to drive the BMW M3 GTR. That means there may be a way to unlock it permanently in story mode. Perhaps it's a reward for fully completing story mode.
The body kit on the BMW M3 GTR is locked, so you cannot swap it out for another in your garage. You can edit the car parts, though, including the front and rear wheels, windows, and license plate. Like other cars, you can also modify the ride stance and add air suspension if you want to lower it.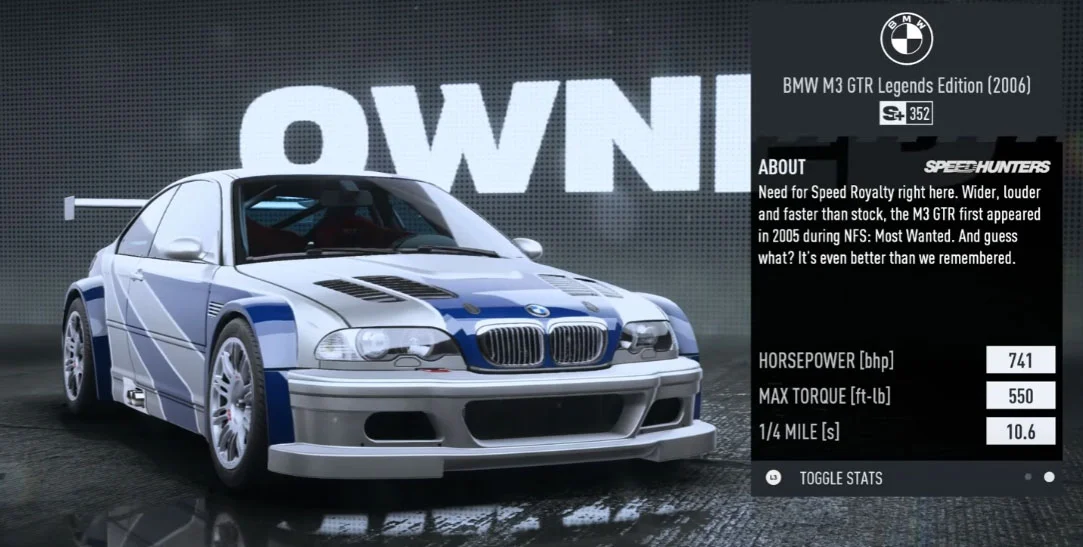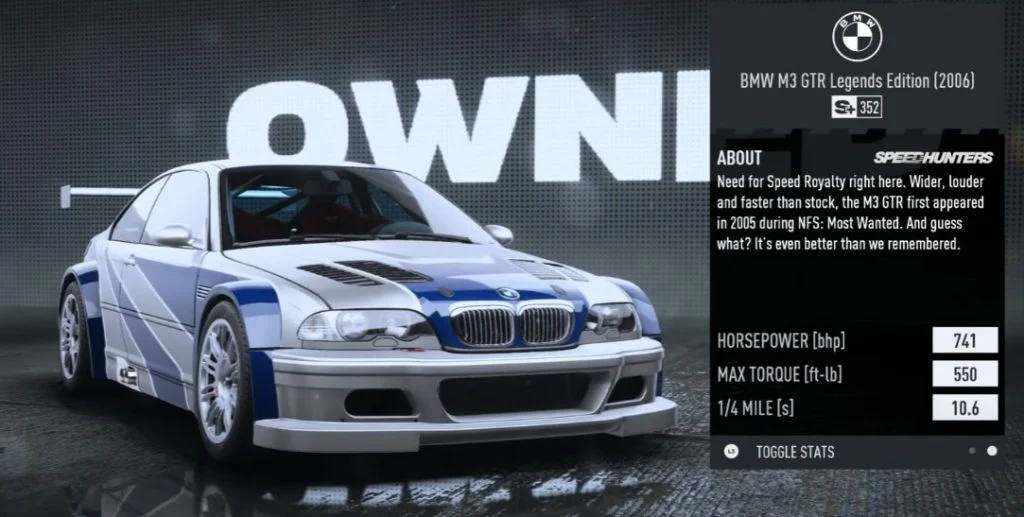 BMW M3 GTR Legends Edition (2006) Stats in NFS Unbound
"Need for Speed Royalty right here. Wider, louder, and faster than stock, the M3 GTW first appeared in 2005 during NFS: Most Wanted. And guess what? It's even better than we remembered."
Tier: S+ 352
Horsepower (bhp): 741
Max Torque (ft-lb): 550
1/4 mile (s): 10.6
By default, the car is not completely maxed out. You can put elite parts on the car to upgrade it over time even more.
More NFS Unbound Guides: How to Turn off Driving Effects in Need for Speed Unbound | Need for Speed Unbound Car Parts Manufacturers | Need for Speed Unbound Lakeshore City Locations