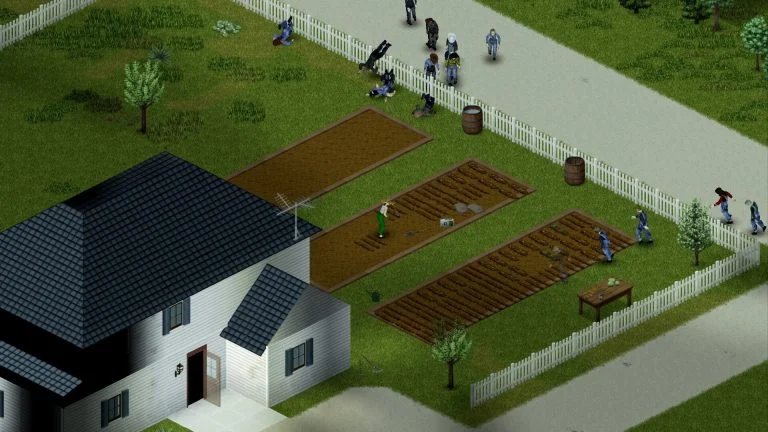 Trying to figure out the best spawn location in Project Zomboid? You have a few options, and each starting area has pros and cons. There are a few things to consider depending on how hungry you are for a challenge and whether you're playing co-op, single-player, or multiplayer. Here's a rundown of each location.
There are four spawn locations in Project Zomboid:
Riverside
Muldraugh
Rosewood
West Point
Riverside
Riverside is an area with few zombies and a decent number of potential bases and places to get decent loot. There are warehouses near the trailer park and the hardware store to gear up. The one downside of Riverside is the spawn locations, as you'll usually spawn in the trailer park. But, as long as you eventually make your way east, you should be okay to survive and make your way to the school.
A colorful town tightly hugging the banks of the mighty Ohio: exploring RIverside is a rich and diverse experience! To the west you'll find the older parts of town, while out east is where our wealthier residents work, rest, and play.
Muldraugh
Muldraugh is an area with many high-quality loot areas, such as warehouses, the railyard, the logging camp, etc. It also has very good spawn points, as you will usually end up inside a gated community or a remote location, safe from hordes of zombies. Likewise, lots of these spots make for suitable bases. The problem with this location is that it's going to be tough to grind up your skills. You'll have to resort to looting houses for books, as the school and libraries are far away and are hotspots for zombie hordes.
Muldraugh is a s mall town in an area the locals know as "Knox Country" – the dead center of the State of Kentucky. It grew as an Army town, but now welcomes folks from all walks of life – some commuters to the bigger towns nearby, some military families, and some living below the poverty line.
Rosewood
Rosewood is an area with not too many zombies but limited options as far as loot is concerned. You'll need to make your way to the Police Station and Fire Station to find anything worthwhile. There are some warehouses, but don't expect to find many things other than food. The spawn areas are solid, and you'll usually wind up inside a house with decent items, safe from zombies. The fenced-off communities also make for some good bases, so this is not a terrible starting area.
A short stay in Rosewood is pleasant, but a long stay? Well, the inmates of the famous Knox Penitentiary will tell you: that's not so fun! Rosewood is a community hub for administation and community services, as well as a leading incarceration center. The country courthouse, a refurbished fire department, and a lively law enforcement facility make this one of the most important towns in the area!
West Point
West Point is a challenging area with no shortage of zombie hordes. You're bound to encounter huge mobs of zombies, but there are a lot of high-quality loot spots in West Point. There's a hardware store, gun store, warehouse, police station, and school to grind your skills and get solid gear. That said, most of the spawn points are terrible, as the town layout makes it so zombies are pretty much everywhere. Because of this, there are very few suitable base locations in this area unless you make your way out of town to the lake.
Whether you're strolling through the town square, chowing on one of our pies, or just chatting with friendly locals – West Point is the true Small Town USA. If our mayor isn't busy rubber-stamping public ordinances in the town hall, you might just find him in the famous Twiggy's Bar.
What's the best spawn location in Project Zomboid?
The best spawn location in Project Zomboid is Riverside. You may get a challenging spawn in the trailer park, for instance, but there are a lot of suitable base locations, high-quality loot, and a low zombie count that more than make up for this fact.
Muldraugh is the second-best spawn location in Project Zomboid for single-player games. It will definitely result in a slower playthrough due to the zombie count. If you have patience, Muldraugh is never a bad option.
Rosewood is another good option, but there are not many places to get good loot. It's a good option to lay low for a while and grind up your items in the early game, but we'd recommend Riverside of Muldraugh over Rosewood.
West Point is mainly for veterans of Project Zomboid, and it might be the best multiplayer map because there will be fewer zombies to manage. It's the best area for loot, so you can bet that you'll find some hardcore survivors roaming around West Point in multiplayer games.
More Project Zomboid Guides: How to Fish | How to Level Up Mechanics | How to Clean Blood & Wash Clothes | Project Zomboid: Healing Guide | How to Play with Friends and Join Multiplayer Servers