The Crimson Corporation is the enemy of the Green Army, the faction you start off allied to in the top-down 2D extraction game, ZERO Sievert. You won't encounter them until you reach the later biomes in the game, but like the Green Army, those wearing the red armor will not kill you on sight. Later, when you gain access to the Industrial area, you'll be able to find the Crimson Corporation HQ. 
Each time you want to enter the HQ, it will cost you 5000 Rubles, but there is a questline that starts with the task Eyes Everywhere, that you can complete to enter the HQ without the Ruble cost. Keep in mind that entering the Industrial area will require some radiation protection, so you should have equipment with rad resistance or bring enough anti-radiation pills.
Crimson Corporation HQ Location
The Crimson Corporation is found in the Industrial area on the docks. To get to them, you'll need to walk to the right side of the map, then take the long highway north until you see a group of Crimson Corporation soldiers gathered around. Be sure to talk to the soldier at the gate so you can pay the fee, or they will attack and kill you. 
Completing the Crimson Corporation Questline
Speaking to Reynard Shepard in the north of the base will give you a chance to accept the quest, Eyes Everywhere. This tasks you with planting a CCTV camera in the Green Army bunker. You can purchase a CCTV from the Crimson Corporation vendor or Barman for 4,000 Rubles. To complete Eyes Everywhere task:
Purchase a CCTV camera from the Crimson Corporation vendor or Barman.
Go back to the Green Bunker and go to General Artemovich's room in the north of the bunker.
With the CCTV camera in your inventory, walk up to the bookshelf and interact with it to complete the quest.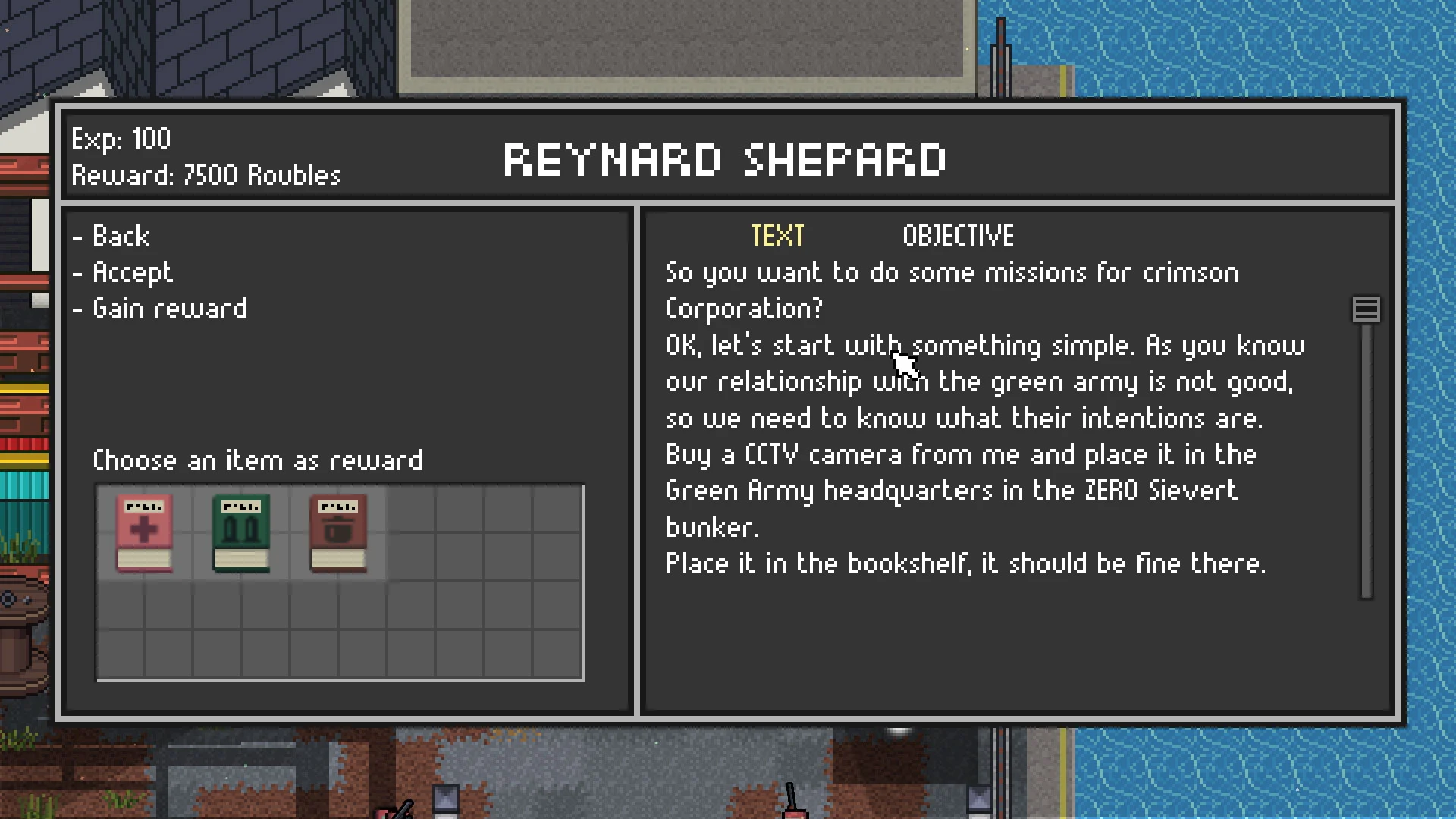 The reward for the Eyes Everywhere quest includes a choice of Medical, Ammo, or Cooking skill books. 
Related: How to Find Igor in Zero Sievert
Once you hand in the quest, Reynard Shepard will provide the option for another quest, called Cleanup, which tasks you with killing 15 Green Army soldiers. Upon completing this quest, you can enter the Crimson Corporation HQ without paying the 5,000 Ruble fee. 
The Crimson Corporation vendor makes high-tier weapons and equipment available and is a good location for end-game gear in the game. In the future, the developers of ZERO Sievert, CABO Studio, may enhance the relationship we can form with this awesome faction. 
More ZERO Sievert Guides: Where to Find Mr. Junk in ZERO Sievert | How to Collect Crystals in ZERO Sievert | All Ammo Types in Zero Sievert | Where to Find the Golden Zippo in Zero Sievert | Zero Sievert: Forest Map and Beginners Guide | How to Get More Storage Space in Zero Sievert