In Darkest Dungeon 2, The Highwayman is a versatile DPS class that can attack at the range for major crit damage.
The Highwayman is one of the four starting Heroes players gain access to upon starting the game and can serve as your main damage dealer late into the game. If you want to perfect your build, see our DPS Highwayman build below.
Darkest Dungeon 2: The Highwayman Build
The Highwayman has a mixture of melee and ranged attacks you can use in the early game — however, the best way to use him is as ranged DPS. The ideal setup includes the following:
Combat Slot: 3
Path: Sharpshot
Skills: Pistol Shot, Take Aim, Point Blank Shot, Double Tap, Grapeshot Blast
Trinkets: Rat Skull, Tormenting Locket, Cursed Coin, Heartseeker, Nautical Compass
The most powerful Path for The Highwayman is the Sharpshot Path, as it increases Ranged Skills DMG by +25%. This Path also reduces Melee Skill damage, so you'll want to kit The Highwayman with all ranged moves if you use this build.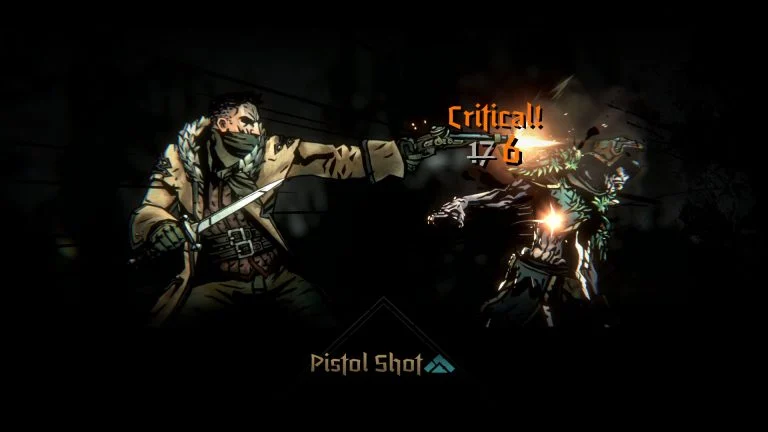 The basis for the Highwayman DPS build revolves around using the Take Aim to add a Crit and Dodge token, improving both your offense and defense. Once the enemy mobs are reduced to under 50% health, take advantage of the Double Tap buff along with your Crit token for major damage.
Point Blank Shot can be used for massive damage in the front row and can be used to reposition The Highwayman, while Grapeshot Blast can be used to attack multiple units at once.
How to Play The Highwayman
The Highwayman is a great backline damage dealer that can deal consistent damage over time and is good defensively because of the Take Aim ability. His downfall is a lack of good melee, so we highly recommend going full ranged if you want to use him.
The Highwayman is one of the first Heroes you get and can be played into the late game.
More Darkest Dungeon Builds:
See our Darkest Dungeon 2 section for more guides like this one.